Free phpnuke Windows Website Theme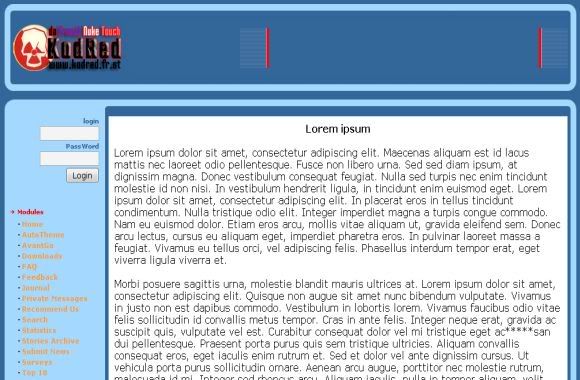 Free phpnuke Windows Website Theme, Called KodeBlue2, Come with 2 Columns, Simple Design, Blue and White Colors, Fixed Width, Left Sidebar, Red Menu, Fully working in the most currents browsers: IE, N4.75, N6, Opera 5.0, Mozilla Firefox..etc, Best view: 1024x768, Suitable Theme for Windows Tips and Tricks Community Website or phpnuke Tutorials Website.
This program is free software. You can redistribute it and/or modify it under the terms of the GNU General Public License as published by the Free Software Foundation; either version 2 of the License.
Author : KodRed
Free phpnuke V5.x and V6.x Theme
2 Columns
Fixed Width, XHTML 1.0 Transitional
Or
If You Would Like To Submit Your Own Free Theme Template Design, We Encourage You To
Register
and Get An Account on Template4all.com