Free Wordpress Web2.0 Technology Blog Theme Template
Free Wordpress Web2.0 Technology Blog Theme Template On Template4all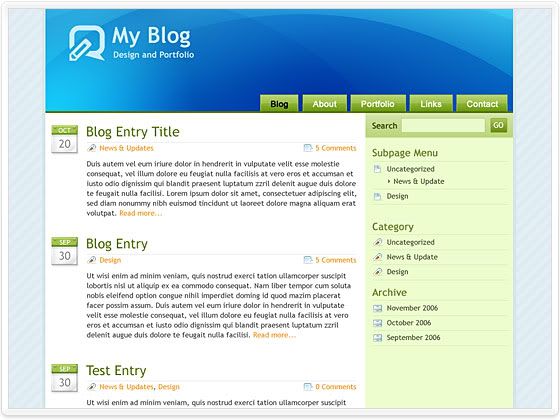 Free Wordpress Web2.0 Technology Blog Theme Template, Mac style, Web 2 Mini icons, Web 2.0 colors, validated CSS and XHTML... Good WordPress theme for your technology related blog. This theme contains all required template files: index or category view, search & results, comments, 404 error, single view, and static page template. Also, print.css file is included to make sure that your page still looks nice on print out, This work is under Creative Commons Attribution-Share Alike 3.0 License, This means you may use it and make any changes you like, However, credit links must remain on footer for legal use, This Theme Was Tested and Work Fine On IE 6.0 & 7.0, Mozilla Firefox, Opera 9.02, Google Chrome and Safari Web Broswers, this Theme Was Tested on The Latest Wordpress Version Also.
Tested on WordPress 2.0 and Higher Versions
Support WordPress Widgets.
Free Wordpress 2.0 and Higher Theme Template
2 Column Theme Template
Table-Based Layout and Fixed Width
Or
If You Would Like To Submit Your Own Free Theme Template Design, We Encourage You To
Register
and Get An Account on Template4all.com